Welcome to Hilltop Reserve

Independent living apartments will be offered in studio, one bedroom and two bedroom spacious floor plan options, and will be equipped with stately kitchen and appliance packages, and spacious closets.  Most apartment offerings will feature cozy gas fireplaces to keep you and your loved ones comfortable in the cooler months, and many also have balconies to enjoy the warmer Colorado days and evenings we all so often enjoy.

If health care services are needed, Hilltop Reserve will also offer a boutique sized Assisted Living option, again with studio, one bedroom and two bedroom options. Our Assisted Living will also be well-appointed, with generously sized kitchenettes and in-suite washer and dryers. And with generous staffing of licensed nursing staff at the community seven days a week, we can meet most of your needs and help you manage your health when it is needed.

Should assistance with cognitive complications present itself for your loved one, a small scale Memory Care neighborhood will be available, featuring specialized dementia care and programming. The Memory Care within Hilltop Reserve features its own secure courtyard with a walking path and outdoor dining, and multiple areas for group and intimate socialization, again offering studio, one bedroom and two bedroom suites.

Located in the Desirable Hilltop Neighborhood
Hilltop Reserve is a mere seven minute drive to one of the top "status-symbol" areas in Denver, Cherry Creek North. Enjoy frequent visits to all Cherry Creek North has to offer utilizing Hilltop Reserve's extensive transportation program, an important services provided to all residents of this community. Voted one of the best places to live in Colorado, Hilltop has everything you could possibly need! Easy access to groceries, shops and restaurants in central Denver, along with Cherry Creek Mall which features department stores, high-end fashion boutiques and eclectic eateries. North of the mall, new and exciting restaurants, relaxed cafes and chic coffee shops line the surrounding streets, which are also home to small contemporary art galleries.
Healthcare services are also abundant in the area, with Rose Medical Center just north of Hilltop Reserve. And with the highly desirable neighborhoods of Crestmoor, Lowry and Virginia Village also within a few minute drive of Hilltop Reserve, staying in close proximity to your friends and loved ones will be a breeze while enjoying the lifestyle you deserve.

An extraordinary senior living community such as Hilltop Reserve calls for a special team of professionals who are passionate about what they do, and how they do it. Our group truly embodies our promise to elevate senior living in every way we can.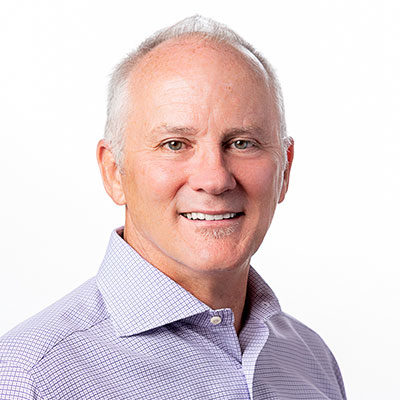 Jerry Thomas
Jerry was born and grew up in Louisiana and was primarily raised by his grandparents and great grandparents. The respect for, and love of seniors engendered by that early life experience would ultimately lead Jerry to the senior living industry in Colorado. However, first he went on to enjoy a successful 20-year career with American Airlines, during which he managed airport operations in the U.S. and Europe, in addition to managing numerous corporate organizations at American's headquarters in Dallas, including HR and corporate finance. After his time at American, Jerry began his career transition to senior living, initially obtaining a nursing home administrator license and becoming the administrator at a Denver-area skilled nursing facility. Subsequently, he managed a large CCRC in Denver which included independent living, assisted living, and skilled nursing. Jerry has an undergraduate business degree from Louisiana State University and an MBA from Duke University in Durham, North Carolina. Jerry describes himself as honored and thrilled to be tapped as the leader of the new upscale Hilltop Reserve senior living community, and he is eager to serve the seniors that will call Hilltop Reserve their home.
Christin Tubbs
Sales & Marketing Director
Christin has built a successful career in luxury hospitality over the past 14 years, all with The Ritz Carlton brand of luxury hotels and resorts. She has an impressive track record in elevating guest engagement, employee engagement and surpassing annual sales goals. Christin inspires exemplary service through innovating the customer experience. She consistently delivers in attracting new clients, and has received commendations for her successes. Christin's un-wavering service commitment to her craft will ensure a smooth transition to our senior living community. She is a graduate of Florida State University, where she majored in business management and hospitality administration. Christin is excited to help you find your most meaningful journey in your next home at Hilltop Reserve.
More Information Available Soon
While we are in the construction stage for Hilltop Reserve, we would like to hear from you if you have interest in learning more about this community. We are excited to announce that our Marketing & Information Center will open in July, and will be located in the shopping center across Holly Street from the community! We plan to host informational sessions in July for those interested in learning more information about services, amenities and pricing for the community. We unfortunately will not have additional information we can share until that time. Hilltop Reserve will be offered on a private pay, market rate basis, and low income options will not be available at the community. If you would like to be included on future email communication for July informational sessions, please complete the form below!
Get to know
Ascent Living Communities
Ascent Living Communities is a Colorado based senior living owner and operator. Our focus is to provide a first class experience for our residents and their families, and to hire and retain the best associates in the business. We are a hands-on owner, and very involved in the operations of our communities. You will regularly find us at our communities working with our teams to create a more meaningful senior living experience than we believe you will find anywhere else.