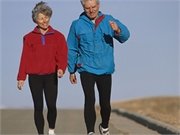 Want to give your brain a boost? Go for a swim, take a walk, or spin your partner on the living room floor.
A new study finds that aerobic exercise can improve older adults' thinking and memory, even if they're longtime couch potatoes.
To read more of this story from U.S. News & World Report, CLICK HERE.