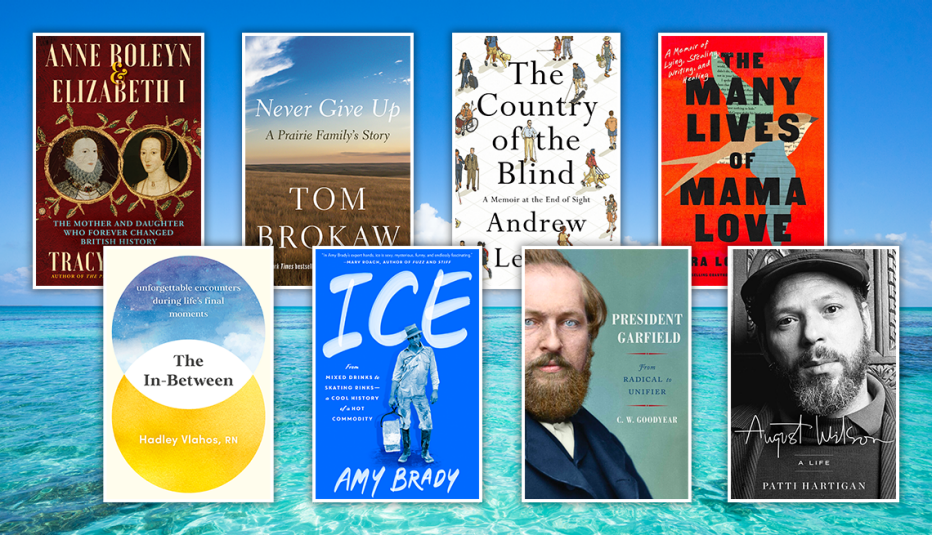 What's a summer read? Why not an in-depth biography of President James A. Garfield or playwright August Wilson? If those sound too heavy for this sunny season, dive into the cool history of ice or the story behind Bogie and Bacall's great romance — or one of the 10 other notable new nonfiction books described below.
The Country of the Blind: A Memoir at the End of Sight by Andrew Leland (May 25)
"Blindness is a radically distinct way of being in the world," writes Leland, a Massachusetts-based writer, in this thoughtful story about his own transition to blindness. His loss of vision began in high school, due to what was eventually diagnosed as retinitis pigmentosa, an incurable condition marked by a slow reduction of sight. The author explains it as a narrowing of his vision, where he eventually felt like he was looking at the world through a narrow tube. Publishers Weekly raves that the book, "enriched by its sparkling prose," is "an extraordinary and intellectually rigorous account of adapting to change."
Ice: From Mixed Drinks to Skating Rinks: A Cool History of a Hot Commodity by Amy Brady (June 6)
And just in time for the summer heat, there's this microhistory, which uses ice as a means to reveal unique bits of cultural history — like women's role in whetting America's appetite for ice. "They became early adopters of the stuff and among ice companies' first salespeople," according to Brady, who explores what she calls "the nation's ice obsession," which began some 200 years ago, allowing for far easier food preservation, not to mention wonderfully chilled cocktails. She contrasts this with how miserable and unrelentingly sweaty life was before ice became commonplace.
Never Give Up: A Prairie Family's Story by Tom Brokaw (June 13)

The ever-nostalgic broadcast journalist expounded on the resilience and hard work of the Greatest Generation in his 2004 bestseller of the same name. Now he looks to the great folks within his own family for inspiration, exploring their humble beginnings in South Dakota. He highlights, among others, his father Red, who dropped out of school in second grade to work at the family's hotel, the Brokaw House, and lived by the motto "Never give up." Brokaw also gets personal about his own life growing up in the aftermath of the Depression and building his career in broadcasting.
The In-Between: Unforgettable Encounters During Life's Final Moments by Hadley Vlahos (June 13)
Vlahos offers her unique perspective on end-of-life care through moving personal stories from her work as a hospice nurse. Because she grew up with a family in the funeral business, she asserts, she never particularly feared death and had no qualms making it a central part of her life. A vocal advocate for quality hospice care, she founded a nonprofit whose aim was to set up a hospice house where families could spend relaxing and joyful weekends together during their loved one's final days. Young and photogenic, Vlahos is also something of a star on TikTok and YouTube, posting videos that portray what good care looks like (@nursehadley).
To see the additional recommendations from AARP of 14 top nonfiction book to enjoy this summer, CLICK HERE.